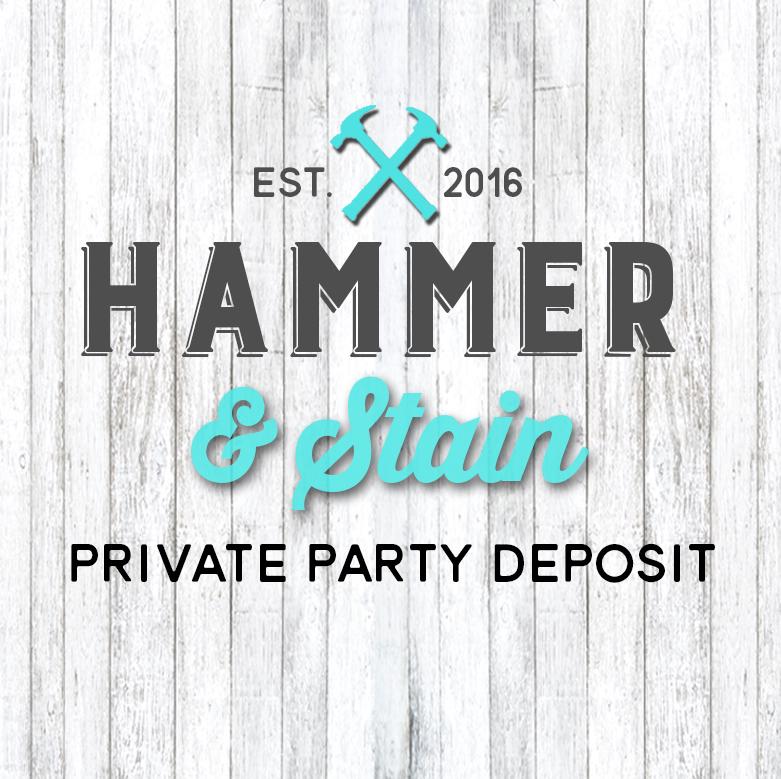 Private Party Deposit
Hammer & Stain
In order to secure this date, you MUST submit the $25 (Special Deposit for July) deposit. 
With 5 registered guests you will be entered to WIN the special Truck Pallet Sign. 
(Currently, the max participants is 10, however, we will keep track and adjust according to the Governor's guidelines ) 
As the hostess, YOU are responsible for inviting guests and making sure they register by your workshop deadline. The deadline for ALL guest to register is 5 days prior to your event. 

If you need to re-Schedule the workshop please contact me as soon as possible. We can move your deposit and any orders to the new date.
Deposits will not be refunded if the party is canceled. However, in most circumstances the deposit can be transferred to credit for future use at workshops, for kits or retail items.  
Private Workshops will have exclusive access of our workshop for 2.5 hours on the date and time you have secured. ALL guests that plan to attend MUST register by the deadline! ONLY those who have registered can enter the studio so please be sure everyone registers. 
Everyone attending your workshop MUST BE 18 years of age or older. 
Once someone has registered and picked their design NO CHANGES can be made. Please make sure everyone understands this. Once your deposit has been paid, our workshop coordinator will contact you to go over project choices and set up your exclusive registration link. 
Regular price $100.00 $25.00 Sale
Terms
Once your order has been submitted we are immediately beginning the process of production of your personalized stencil. If you would like to cancel your reservation, you must give a minimum of 48 hour notice. Please note a restocking fee of 30% of the total amount of the workshop will be deducted from your refund. Same day cancellations or no-shows will not be eligible for a refund. Cancellations will be processed on the day we receive your cancellation request. It may take up to 2 weeks for the refund to return to the account you used to purchase your items. Hammer & Stain reserves the right to make any amendments to this policy at any time. Notification of any changes will be published on this page. If you have any inquiries regarding cancellations or any of our other policies please contact us.